Replica medieval fabric is proudly displayed in Refectory Restaurant
21 Dec 2022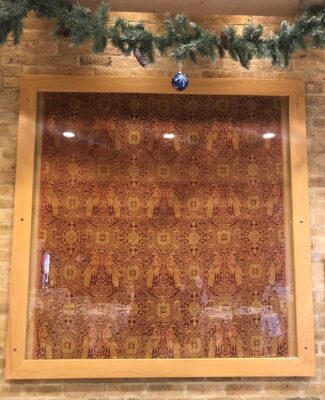 Copes for Canterbury
When the tomb in the Cathedral of Archbishop Hubert Walter (died 1205) was opened in 1890, the body was discovered wearing a full set of silk vestments. These have been held in the Cathedral's collections ever since. Some items from the set can be viewed in the displays in the Cathedral Crypt.
Dating to the latter half of the 12th century, they mark a period of great elaboration and development of ecclesiastical garments. Research suggests that the silks of some of the garments were made in Spain or the Iberian Peninsula and the patterns probably mimic Middle Eastern designs. The way they are woven is not perfect and there are mistakes in the patterns, but this is characteristic of the silk's handmade nature.The fragment of the dalmatic (an over-garment) has the most striking design, which is large and very bold and this is typical of fabrics used for dalmatics during this period. The pattern is made up of horizontal rows of medallions enclosing pairs of large birds with a simple representation of a tree between. The birds' heads and feet are highlighted in silver or gold, and in the borders of the medallions lions are chasing hares.
The fabric of the dalmatic is now yellow and we are as yet unsure if this was the original colour, but it has been suggested it may have been red. What is certain is that the silk was woven so that the pattern would be illuminated when hit by light. The full beauty of the original fabric can only be imagined but it must have created a stunning effect when worn by a medieval Archbishop.As a permanent legacy of the 2020 celebrations of the 850th Anniversary of the Martyrdom of Thomas Becket, and the 800th Anniversary of the Consecration of his Shrine, the Cathedral worked to recreate one of these medieval fabrics. The Friends of Canterbury launched a campaign to raise the funding required to have the new design woven and for a unique set of vestments, Copes for Canterbury, to be made.
On the many occasions throughout the year when the new copes are used, the breath-taking beauty and complexity of the silk reminds us of Canterbury's ancient and continuing role as a centre of creativity and craft put to the service of worship, and a place where people and objects from the whole world can come and be at home.
This was made possible by way of a gift from The Friends of Canterbury Cathedral.