Festive Lunches and Christmas Parties in Canterbury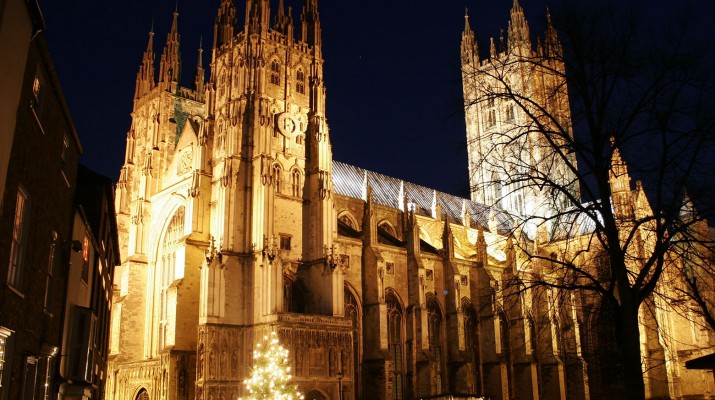 Looking for an exceptional Christmas Lunch or Christmas Party Night in Canterbury? Then look no further. Within the inspirational grounds of Canterbury Cathedral, the Cathedral Lodge offers superb first class banqueting facilities and is in the ideal location to celebrate Christmas. From only £24.95 per person, our great value Christmas lunches and Christmas party nights are perfect for large or small groups and a great way to celebrate with your family, friends or colleagues.

Christmas Lunch: £24.95 per person
Dates with space: Weds 4th, Thurs 5th, Fri 6th, Thurs 12th, Fri 13th, Mon 16th, Tues 17th, Weds 18th, Thurs 19th December
The Refectory Restaurant is available for couples or small groups, with larger groups above 60 people being accommodated in the Clagett Auditorium.
Christmas Party Nights: £37.95 per person – Friday and Saturday nights
Last few dates with tables available: Sunday 1st December £27.95 per person, Friday 13th December £37.95 per person (1 table of 12) or Sunday 15th December £29.95 per person
£25.95 per person for a 3-course Christmas Dinner in the Refectory Restaurant with the option to join a party night after dinner at £29.95 per person – call for dates.
For shared party nights, the Auditorium Foyer Bar opens for drinks from 6.30pm, with seating for dinner at 7.15 pm. Our resident DJ plays all your favourite hits through to carriages at 11.00pm.
You can download our Christmas brochure with menu here
All Christmas menu choices and notice of dietary requirements must be received no later than 6 weeks prior to your event. For specific dietary or allergy information, please ask your event co-ordinator for a copy of our special diets menu.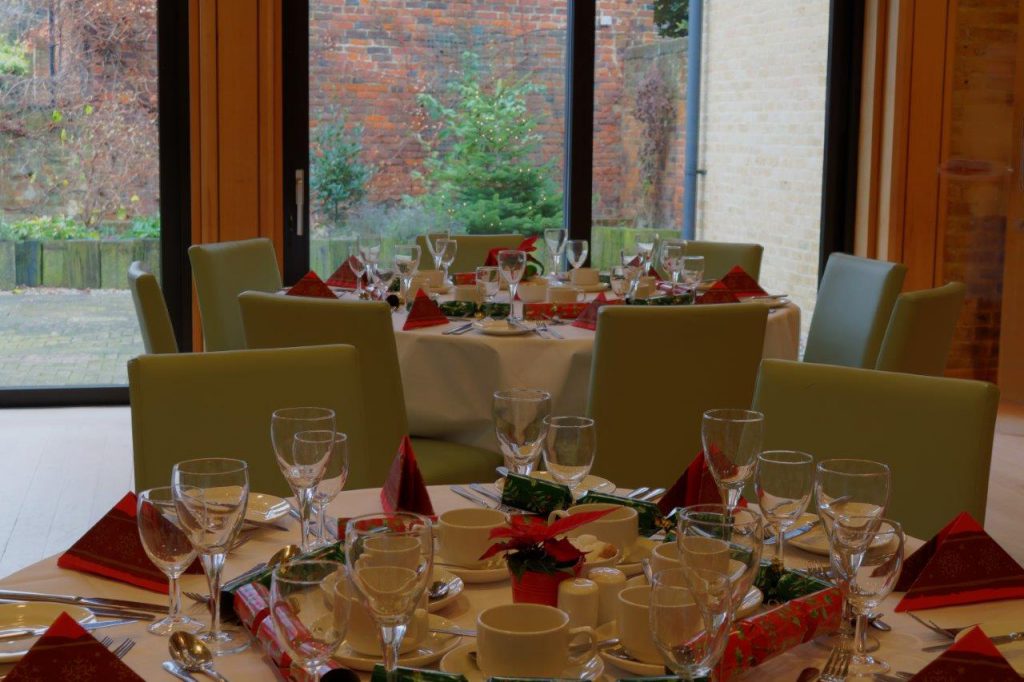 Christmas Menu
Starters
Carrot and Thyme Soup (V)
Chicken and Black Pudding Terrine served with Apple Chutney and Pickled Kohlrabi
Smoked Salmon Mousse, Crème Fraîche, Lime and Dill, with toasted Bloomer
Heirloom Tomato Bruschetta, with Mozzarella, Tapenade and Salsa Verde (V)
Main Courses
Roast Turkey with all the Trimmings served with Chȃteau Potatoes and fresh seasonal Vegetables
Slow Braised Brisket, Boulangère Potato and Beef Jus, accompanied by fresh seasonal Vegetables
Hake with Root Vegetable medley, Kale, Dill Cream and Oil, served with New Potatoes
Cauliflower, Leek and Cheddar Wellington, with Chȃteau Potatoes, Thyme Jus and fresh seasonal Vegetables (V)
Desserts
Christmas Pudding with Brandy Cream (V)
Dark Chocolate and Orange Mousse with Pecans and an Orange Shortbread Crumb (contains Cointreau)
Upside-down Pear and Walnut Cake with Cinnamon Cream (V)
Followed by Tea or Coffee with Mini Mince Pies
More Special Events