'A day exploring the gardens at Canterbury Cathedral' Monday 31 July 2023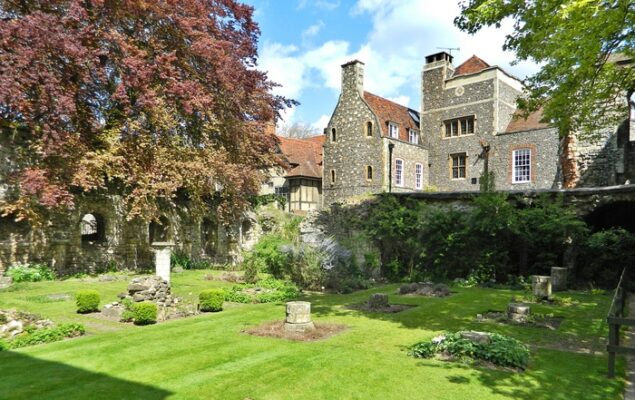 Monday 31 July 2023
"If you have a garden and a library, you have everything you need." – Marcus Tullius Cicero
'A day exploring the gardens at Canterbury Cathedral'
Join the team at Canterbury Cathedral for a fascinating day exploring gardens and garden history at Canterbury Cathedral. The day will start with coffee, followed by a talk by the members of the Cathedral's gardening team, and a chance to see some items from the wonderful collections of the Archives and Library relating to gardens and wildlife. After a hot two-course lunch at Canterbury Cathedral Lodge, you will be led on a tour to see some of the gardens themselves. We will finish the day enjoying afternoon tea and the option to attend Evensong, sung by the Cathedral choir.
10:15 – Arrival at the Cathedral's Visitor Centre
10:30 – Welcome Tea, Coffee and Danish Pastries
11:00-12:00 – Illustrated talk by the Cathedral's Head Gardener, on the history of gardening at the Cathedral and a visit to the Cathedral Archives and Library to enjoy items relating to plants and gardening
13:15:14:15 – 2-course hot lunch, with tea and coffee in the Refectory Restaurant at Canterbury Cathedral Lodge
14:15-16:15 – Cathedral Precincts tour to see some of the Cathedral's gardens
16:15 – Enjoy tea, coffee and cake with new friends'.
17:30: Evensong, which all are most welcome to attend
Price £62 per person (10% discount for Friends of Canterbury Cathedral).
Not local? Why not stay overnight and receive 10% off your stay!
To book, please email us at events@canterburycathedrallodge.org or call 01227 865350 and ask to speak to our events team.
Pre-payment will be taken at the time of booking and is non-refundable unless we are able to re sell the places booked. if however due to new Covid guidance this event was unfortunately not able to take place, then we would offer an alternative date or a refund would be given.
A guest from the previous tour in May, said:
"The gardening team was knowledgeable, very much conscious of the necessity to garden eco-friendly, put really lovely new beds into the precinct, I was quite impressed with those; Generally the gardens were wonderful, the visit to the archives was very interesting and accompanied by very motivated and knowledgeable staff. Refreshments were also very nice indeed! In particular the gardeners have every reason to be pleased!
More Special Events