Exhibition and Holy Week Talks
03 Mar 2016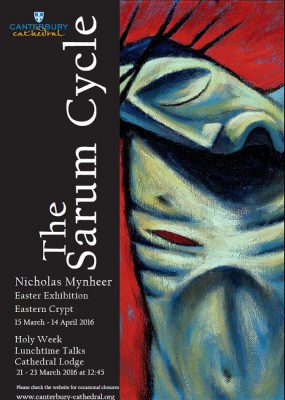 A series of striking paintings based on Christ's Passion will be the focus of Holy Week lunchtime talks at Canterbury Cathedral.
The 13 paintings making up the Sarum Cycle will be on display in the Cathedral's Eastern Crypt from 15 March until 14 April and on Tuesday 22 March the artist, Nicholas Mynheer, will be talking about his work.
Also during Holy Week, from Monday 21 March to Wednesday 23 March at 7.30pm there will be a reflective service in the Quire, with readings, prayer and music sung by the Cathedral Choir.
The series of unusual paintings by the Oxford-based artist and sculptor capture the last week of Jesus' life, starting from his entry into Jerusalem through to the resurrection.
Prior to the Canterbury exhibition, Mr Mynheer explained his inspiration. "Starting out as a series of private meditations it was never my intention that these paintings would be seen publicly, or indeed travel to different venues but art, once produced, often seems to have life of its own!"
Sculpture
Mr Mynheer is also due to bring with him a number of sculptures, including one with a particular Canterbury connection.
Canon Christopher Irvine, who had the idea to bring Mr Mynheer's work to Canterbury, said: "We walked through the Crypt when Nick came to visit the Cathedral. He loved it and was so inspired by our Crypt that he went home and actually carved an image of the entombment of Christ."
The Holy Week lunchtime talks are in the Kentish Barn at the Cathedral Lodge at Canterbury Cathedral and will start with a sandwich lunch at 12.45pm and will conclude with a short reading and prayer. The talks are free to attend and all are welcome, normal Precincts charges will apply if visiting the Cathedral.

The talks are:
Monday 21 March 2016 – Revd Matthew Rushton, Precentor at Canterbury Cathedral, the Sarum Cycle images and song.
Tuesday 22 March 2016 – Revd Christopher Irvine, Canon Librarian, in conversation with the artist Nicholas Mynheer.
Wednesday 23 March 2016 – Revd Clare Edwards, Canon Pastor, the Sarum Cycle images and prayer.
It is hoped that the services too will be a source of inspiration during the week as Canon Irvine explained: "The inspiring words and music on these three evenings will enable us to walk more closely with Christ in our Holy Week journey to the cross and resurrection.