Summer Dining
30 Jul 2020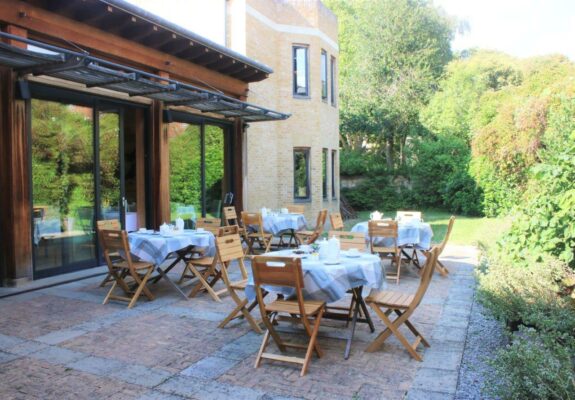 We are delighted to be opening our wonderful Refectory Restaurant to residents and non-residents this summer on Monday to Saturday evenings until the end of September.
Enjoy our splendid summer menu. 2-courses: £20.00 or 3-courses: £25.00
To make a restaurant reservation, please contact us on 01227 865350 or email stay@canterburycathedrallodge.org
Why not stay the night and wake up to beautiful Cathedral views and a delicious Kentish Breakfast in the Refectory Restaurant, which offers alfresco seating.
You can see a copy of our sample menu here:
Sample Dining Menu 2020*
STARTERS
Soup of the day with house bread (v)
Heirloom Tomatoes, burrata, salsa verde, crispy garlic (v)
Smoked salmon, avocado and cucumber salad, harissa cream cheese
Salt and pepper squid, lemon aioli
Korean fried chicken wings, Korean mayonnaise
Ham hock, tomato chutney, mustard, watercress, sourdough
MAIN COURSES
8oz cheeseburger, Pickles, tomato, lettuce, coleslaw, chips (Falafel burger option)
Braised short rib, mash potato, wilted cabbage
Ham, egg and chips
Beer battered cod belly, chips, pea puree, tartare sauce
Stone bass, white beans, chorizo and tomato sauce
Wild mushroom and tarragon filo pie, buttered new potato, wilted cabbage (v)
Linguine, watercress and almond pesto, poached egg, crispy onions, broad bean (v)
DESSERTS
Dark chocolate brownie, honeycomb ice cream, raspberries (v)
Salted caramel cheesecake, vanilla blueberries (v)
Strawberry trifle (v)
Apple crumble, vanilla ice cream (v)
Roast pear, shortbread, blackberry sorbet (v)
Sticky toffee pudding, vanilla ice cream (v)
SIDES
House bread and butter £3.50 Regular chips £3.00 Buttered new potatoes £3.00
Side Salad £3.00 Buttered summer greens £3.00 Loaded chips £4.50
£20.00 for 2-courses
£25.00 for 3-courses
Kids Menu August 2020
STARTERS
Crudités and dip (v)
Soup of the day with house bread (v)
Garlic bread / Garlic bread and cheese (v)
MAIN COURSES
Cheeseburger and chips
Fish and chips
Sausage and mash
Tomato and basil linguine (v)
DESSERTS
Vanilla ice cream, chocolate sauce (v)
Strawberry trifle (v)
Yoghurt and berries (v)
£9.00 for 2-courses
£12.00 for 3-courses
* This is a sample menu and may change due to the availability of seasonal ingredients. For detailed allergen information, please ask your waiter.