Sir Terry Wogan enjoys breakfast while filming new TV show
02 Jul 2015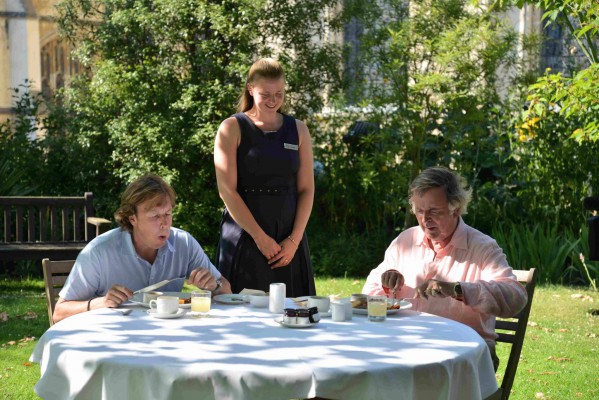 TV star Sir Terry Wogan and Mason McQueen enjoyed a Full Kentish English Breakfast in the Campanile Garden at Canterbury Cathedral Lodge on Tuesday 30th June.
The Children in Need presenter was joined by his co-star, London cabbie Mason McQueen, as the pair sampled the delights of the city's culinary scene, which included a visit to Canterbury Cathedral Archives and Library and breakfast at Canterbury Cathedral Lodge.
Lisa Emanuel, Public Relations Executive for Canterbury Cathedral, said the former Eurovision Song Contest host sampled one of the Cathedral Lodge's popular Kentish breakfasts, before meeting the Cathedral's Head Archivist Cressida Williams, who showed him some menus for banquets held following the enthronements of Archbishops of Canterbury. Lisa added: "It was good to have him visit the Cathedral and it was lovely that they have included the Cathedral as part of their production on BBC2, which is due to be aired in September. He is a really lovely man".