Local guide for Canterbury and Kent

Visiting Canterbury
Heritage, history, culture, entertainment, festivals, shopping – Canterbury has it all!
Canterbury is a city where the present keeps in perfect step with the past and where history and heritage quench the thirst for knowledge. It is also a city where quaint street cafés and fine restaurants feed the appetite and where a thriving arts community satisfies the imagination.
The catalyst for Canterbury's appeal is, of course, magnificent Canterbury Cathedral, which soars to the heavens and dominates the city's skyline. The Cathedral, along with the tranquil ruins of St Augustine's Abbey just outside the city walls and ancient St Martin's Church form one of Britain's handful of world Heritage Sites.
Pilgrims have flocked to the Cathedral ever since the murder of Archbishop Thomas Becket in 1170. Imaginative museums unfold the city's amazing story of famous people and great events from Roman times to Rupert Bear and Canterbury.
After a £14 million restoration project a visit to the new Beaney House of Art Knowledge and Library is a must. While City walking tours or river tours offer a wonderful insight into Canterbury's finest architecture, history and beautiful natural scenery.
Possibly one of the best times to visit Canterbury is in October, when the Canterbury Festival, also known as Kent's International Arts Festival is held. Featuring classical and modern music, theatre, dance, exhibitions and family events, the festival has something to offer everyone. The brand new multi million pound Marlowe Theatre in Canterbury attracts some of the biggest and best touring shows and performances in the Country.
Shopaholics will enjoy visiting the many independent shops in the Kings Mile or major retail outlets in the high street or Whitefriars shopping centre. Whatever your taste, you'll find a mouth-watering choice of food and drink in Canterbury. The Goods Shed, Canterbury's daily farmers' market offers a wonderful range of local and mostly organic produce, as well as a superb restaurant.
For further information on Canterbury's tourist attractions and what to do in Canterbury, visit www.canterbury.co.uk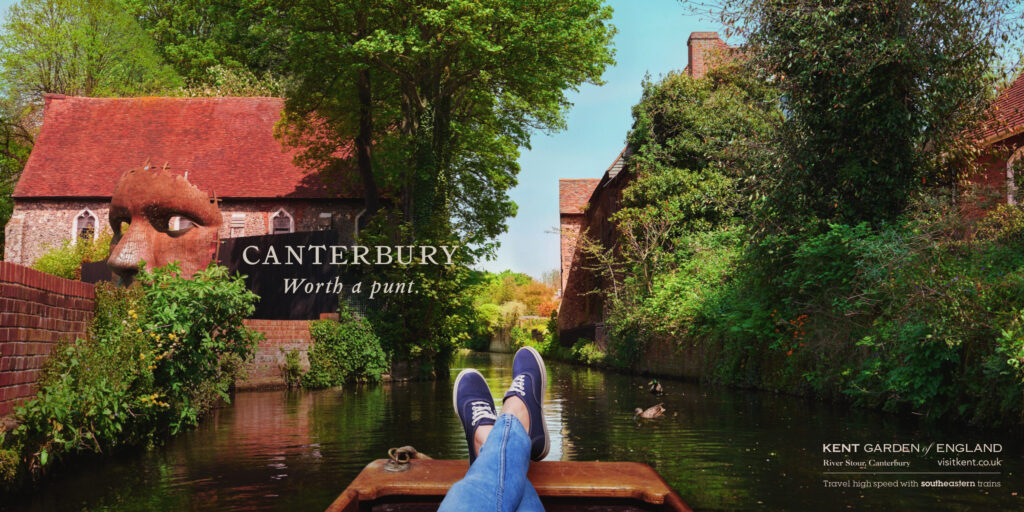 Visiting Kent
Kent also known as The Garden of England, offers castles, gardens, beautiful coast lines, as well as countryside and quintessential English villages.
From Leeds Castle to Dover Castle, Walmer Castle to Hever Castle, Penshurst Place to Goodnestone Park Gardens, there is so much to enjoy and explore, you will never tire of this beautiful county.
Children will enjoy Kent's two amazing zoos, Howletts and Port Lympne Wild Animals Parks or many of the smaller animal farms.
Coastal towns such as Whitstable and Broadstairs are within easy reach by public transport or car, and offer days of beach fun, wonderful sea food – Whitstable oysters! – art galleries and summer festivals. SouthEastern has many 2-for-1 offers to Kent attractions and restaurants.
Kent is ideally placed for a day trip to France to enjoy lunch or some great shopping in Calais. The Port of Dover with its many ferry connections DFDS or Folkestone (Eurotunnel) and Ashford/Ebbsfleet (Eurostar) are within half an hour travelling time by car or public transport.
For details on all events, attractions or special offers in Kent, visit www.visitkent.co.uk.