Testimonials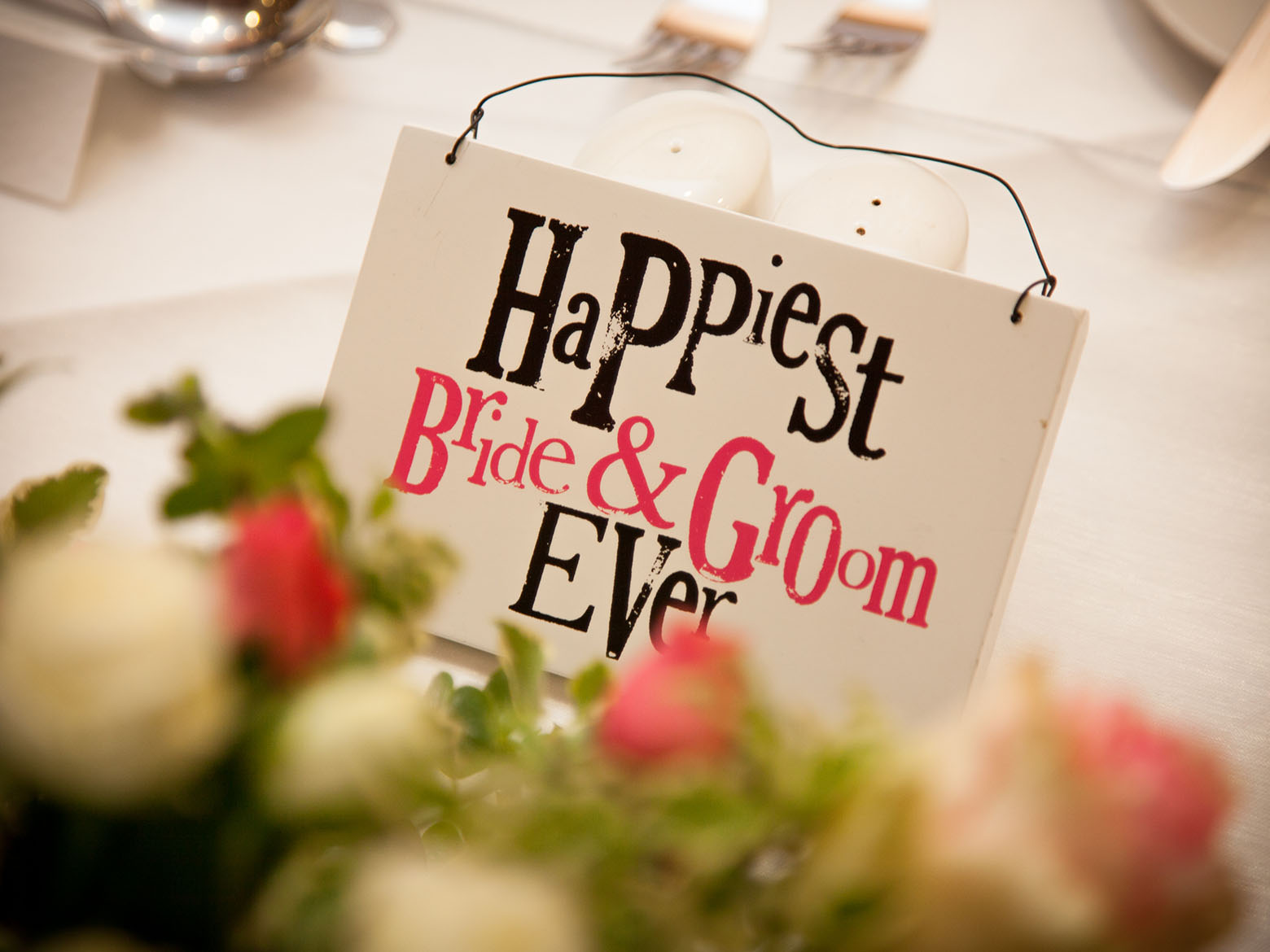 We just wanted to send you an email to thank you for all the hard work you that went in to organising our wedding reception at the weekend.
It went off without a hitch and we had such an amazing time. All our guests were blown away by the venue, the setting and the food.
Please pass on our thanks to everyone who was working on Saturday for the event and on reception in the hotel, as well as those working in the restaurant and on reception Sunday morning. Everyone was so helpful and friendly.
We would also really appreciate it if you could extend our special thanks to Danielle. She was an absolute star on the day, helping us with everything we could possibly need. Without fail she was there when we needed her, even to the point of magically appearing behind me to help push my chair in, no matter where I was in the room! She really made our night.
Natalie and Neil
*  *  *  *  *
We would like to say a huge thank you to the team at the Cathedral Lodge for making our wedding day more than we could have hoped for. We were so pleased with how everything went, both in advance and on the day, and that's down to you and all the team, so thank you. All the guests (and ourselves) rated the quality of the food very highly. It was really beneficial to be able to offer a menu with so many options to our guests, making sure there would definitely be something all the guests would like. We were particularly happy with the main courses – it was such a dilemma choosing which ones to have ourselves! And being able to go for a tasting in advance was a really nice way of deciding, and such a lovely experience!
It was so unique to have our reception with such a historic and beautiful backdrop in Canterbury Cathedral. The Campanile Garden was a lovely, open backdrop to host guests in. It was so nice to be so central in Canterbury and yet be in such a quiet space. The Clagett Auditorium was slick and modern and a perfect size for the number of guests we invited. Having a wooden backdrop made it really easy to pick colours to decorate it with, and all the team at the Lodge helped the room look so beautiful on the day.
It was the customer service, beyond anything else, which made us so happy we picked the Cathedral Lodge for our wedding. Every member of staff had so much time for us and were willing to show us round the venue and answer all our questions no matter how small.
Thank you so much to everyone involved for making it so special.
Charlotte and Peter
*  *  *  *  *
We had a absolutely wonderful wedding day, we loved every moment. Staff were so attentive, hardworking and friendly we felt so well cared for! Many of my family mentioned that the event ran smoothly, that the food was delicious and staff very helpful and friendly. Even down to making sure my sister had tea/ coffee while she was out practicing for her performance. It just felt so personal, thank you! 
Thank you so much for all your work its been such a great experience working with you and being privileged to have such a beautiful venue.
Tim and Emila
*  *  *  *  *
My husband and I would just like to say a huge thank you to all the staff at Canterbury Cathedral Lodge for all their hard work that went into making our wedding day so wonderful! Throughout the two years of wedding planning our wedding coordinator, Catherine was exceptional, her dedication, organisation and overall wonderfulness was second to none. Catherine was always at the end of the phone or an email if either of us ever had any questions. Everyone was so kind and accommodating throughout the day, making sure everything flowed with precision. The food was so delicious which was commented on by all the guests. The level of attention and service in which we received from the moment we enquired about the possibility of the Cathedral Lodge being our wedding venue to the morning after the wedding was outstanding! The overall location and setting of Canterbury Cathedral Lodge makes it the perfect wedding venue and we would not hesitate in recommending it to any couple looking for that perfect venue! Thank you!!
Charlotte & Ian
*  *  *  *  *
We had a wonderful wedding day and so many of the guests commented on how lovely the food and venue were. We were so lucky that we got such a good day for the weather – I particularly enjoyed relaxing in the gardens before the meal – such a tranquil area!
We heard about the Cathedral Lodge from friends who had been there previously and saw that you were having an open day. We felt very welcome being shown around the grounds and were happy to register our interest in a couple of dates. Thank you for your patience with our changing dates and for keeping us on track with the planning without putting pressure on us!
It was great being able to keep a couple of choices for the guests and I was pleasantly surprised at the quality of the food – both at the tasting and on the day! Lots of our guests commented on how tasty the food was. We didn't get a chance to try the buffet at the end (too busy dancing), but our friends said it was yummy! There were a good selection of drinks at the cash bar which kept everyone pleased. Finally, the breakfast was particularly scrumptious (eggs Norwegian for me, traditional breakfast for Tom).
You and all the other staff were very accommodating with the prep and setup, then all the staff on the day were welcoming and helpful. The venue is such a beautiful setting to start with so it was lovely not having to decorate too much – just a few bits to enhance what was already there. The use of the gardens in good weather was a big plus!!
Thanks again for all you help Tania – we would definitely recommend the Cathedral Lodge to anyone planning their special day or an event in general!
Roz and Tom
*  *  *  *  *
"Matthew and I had an absolutely wonderful wedding day and a beautiful reception at Canterbury Cathedral Lodge. We looked around a number of reception places but Canterbury Cathedral Lodge was definitely the one we wanted to go with and our decision did not falter on experience.
The staff made our guests feel welcomed and relaxed and the children had so much fun.
Canterbury Cathedral Lodge were very understandings and flexible to help us to make the day our own and how we wanted it to be. We didn't feel any pressure on timings on the day or routine for the wedding. This made us feel very respected and relaxed.
The staff were very polite and down to earth whilst being professional. A great team of people to have behind you on the day. The reception is gorgeous and you make it your oyster- decorate how you wish to. The rooms are comfortable, clean and inviting. We had the buffet and we even had food left over- great value for the money which you pay.
We can't wait to go back for our years anniversary and this time with our expected new born baby."
Naomi and Matthew
*  *  *  *  *
Having very recently got married and having had our reception at the Canterbury Cathedral Lodge I cannot speak highly enough of the team and the venue itself. From the first time we met Catherine and she told us she would be our wedding coordinator, she has been a great source of support, and a comfort to us. She was always warm, welcoming, and very professional, provided invaluable guidance, and basically made what could have been a very stressful period into one which we have thoroughly enjoyed. The day itself was incredible and ran perfectly, and I think that was largely due to her efforts and experience. She has been a wonderful wedding coordinator and we couldn't have done it without her!
I spent two nights at the Lodge and the rooms, service, and experience was fantastic. The rooms are spacious and very comfortable, the staff were very friendly and always on hand to help, the location, naturally, incredible, and the food excellent. On the day of the wedding, the events team were amazing. We have had numerous comments from guests, all of whom have offered unequivocal praise for the venue and the team. Nothing was too much trouble for any of them, and they all went above and beyond in trying to make the day as special for us as possible. We are incredibly grateful for all their efforts and incredibly thankful we opted to have our wedding reception at the Cathedral Lodge – thank you so much to all involved!
Paul
*  *  *  *  * 
We had our wedding reception at the Canterbury Cathedral Lodge in November 2017 and could not recommend it highly enough. Right from the start of the process, every member of staff that we or our guests interacted with were friendly and helpful. Tania was particularly outstanding at helping us plan and organise the day. On the day, the whole venue looked beautiful (with the help of the amazing Emily at I Do Devoted Dreams) and our guests loved it. The food was delicious and the service was perfect. Nothing was too much trouble for Poppy and her team.
Thank you to all the staff again for a special and memorable day!
Tom & Em
*  *  *  *  * 
Personal Touch
We first enquired about having our wedding reception at The Cathedral Lodge a good 2 years before our planned wedding date via email, and from the first email we were impressed with the quick and efficient reply that we received. Our wedding co-ordinator was Catherine, and she was amazing throughout the whole process. Catherine was very professional and organised and although you know she has lots of other weddings to organise, whenever we met or had communication via email, I always felt like our wedding was the only wedding she was planning – she gave a real personal touch to everything! The actual venue is a brilliant space to have, as although you are in the Cathedral grounds with stunning views, the auditorium is like blank slate, which you can decorate in anyway, but it would still compliment the location. Being both first timers to getting married, both my husband and I had no idea what happened regarding timings etc, but Danielle (our toast master) kept us in the loop the whole day and handed over to another member of staff who kept us informed once again. Our wedding journey was a slightly bumpy road, but the Cathedral Lodge and Catherine accommodated our every need and it was a perfect day! If you are reading this review and are still not sure about whether the Cathedral Lodge is the right venue for you, I would definitely give them a call and go and have a look – I am sure that you won't be disappointed!
Mr & Mrs Scamp
*  *  *  *  * 
We are finally back from honeymoon and snapped back into reality.
Thank you so much for your help; it was truly a very special part of the day. The service, response times, quality and space (can't go wrong in the chapter house!) were all spectacular. The team members on the day were so friendly, kind and lovely to all the guests. We will highly recommend you to all of our friends.
Thank you so much!
Kristina & Alex
*  *  *  *  * 
Perfect!
"Me and my husband had our wedding reception at the Lodge on the 15th July 2017 and it was perfect. Catherine was our wedding coordinator and she went above and beyond to make our day extra special – 2 years we were emailing, and she was in touch with us all the way up to the big event – on our wedding she was there to greet us. We are so thankful that everything went smoothly due to our time line, and the amazing staff at the Lodge. It is the most beautiful place to have your wedding and such a stunning place – even our room was amazing. Definitely couldn't ask for a better day, thank you so much. Lots of the love, the new Mr & Mrs Raggio".
Mr & Mrs Raggio
*  *  *  *  *
What can I say… our wedding was amazing!
Venue and room looked amazing, food was excellent, DJ was superb and special thanks to Poppy and Danielle – they were absolutely brilliant.
It was seamless. The staff were also courteous and on the ball. I would recommend the Cathedral Lodge any day. You made us feel like royalty.
Thank you for everything!
Caroline Guaschi
*  *  *  *  * 
Thanks a Million
We needed a reception venue which had the wow factor. We can honestly say that Canterbury Cathedral Lodge ticked every one of our boxes. The Lodge speaks for itself, when asked where we had picked for our reception venue, it was more often than not responded with an 'oh wow!' Fast forward to our special day. The organisation that went into our day was second to none, with Catherine organising our suppliers to ensure everything ran smoothly. On arrival at the Lodge as Mr and Mrs we were greeted by Catherine and shown the Clagett Auditorium. Seeing everything pulled together was wonderful, and a moment that we will cherish forever. It was stunning. Joining our guests in the garden and enjoying a welcome drink was beautiful. The view of the Cathedral, the sounds of the city and the laughter of our family and friends all made for a perfect atmosphere. Seeing our guests' faces as they took in the auditorium was priceless, no one could get over the space we had and that it could even exist amongst its famous surroundings. The wedding breakfast was served, and the empty plates spoke for themselves. In the evening I was too busy dancing to the awesome DJ to think about food. From what I heard, the bacon and cheese turnovers and mini Yorkshire puddings were incredible! We could say thanks a million times over and it still wouldn't come close to how grateful we are for everything. We've been on such a wonderful journey, that we are sad that it's all over. For future Brides, please don't hesitate booking Canterbury Cathedral Lodge for your special day, it really is everything you could want and more. Go see for yourself and fall in love with it the way we did!
Zara and Kevin
*  *  *  *  * 
My husband & I would like to say a massive thank you to all the staff for helping us make our Wedding Day run smoothly. From the initial start (with us both not having a clue where to start) Sandra made the great suggestion of using yourselves along with Tower House for the ceremony. Catherine was excellent with all the planning and on the day everything looked better than we could ever imagine. My mother-in-law was very impressed with Juri who took her everywhere in her wheel chair. I'm sure if she could she would have taken him home! Poppy and her staff were very attentive to all our guests needs, even when some were cutting it fine for breakfast. I have also had nothing but praise for wedding breakfast food and buffet. Some saying it was as special and impressive as the Cathedral itself. Overall it was a wonderful day with wonderful surroundings, people and staff. This helped us have a 'Stress Free' wedding day which is what we wanted. Thank you all.
Julie and Mark
*  *  *  *  * 
Mark and I had the most perfect day on Saturday – thank you all so much for the parts you played.
From our first visit to the Lodge last year, the team were incredibly professional and could not have done more to help us. Having never visited the venue prior to enquiring about our wedding reception, we were blown away with its style and uniqueness.
On the day itself, Peter and team were amazing. We all felt completely relaxed and knew that we were in excellent hands. We received many comments from guests and suppliers about how helpful, efficient and accommodating the team was, and we are very grateful for how the team ensured that the day ran so smoothly. The food and beverage were of an exceptional quality – I think that everyone cleared their plates! We have also received great feedback from guests who had dietary requirements and children about how fantastic your staff were in ensuring they had the correct meals with no fuss.
I know that my parents were very grateful for how helpful and accommodating Peter, Tom and the team were the day before the wedding – I expect that they will share their own feedback, but I know that they were very impressed.
Everyone had a fantastic day and evening celebration. Some of us even extended our celebrations late into the night and we are grateful to Tom for being so accommodating!
Thanks again
Louisa
*  *  *  *  * 
I just want to say a huge thank you to you and your team for making our day so special. The whole family have commented on how good the venue and staff were. Everyone was so accommodating and friendly throughout the day.
The whole enquiry process was excellent from when mum first started looking at the venue until the day. All our questions were answered and I know you helped us achieve everything we wanted.
The food was amazing. The lamb for main course was spectacular. You wouldn't have know it was mass catering at all as each dish was cooked as if ordered individually. The guests couldn't stop talking about how delicious the food was. Drinks were all great as well.
Customer service was fantastic. Poppy was brilliant, she greeted me when I arrived and looked after Richard and I all day. She brought us drinks when she could see we were too busy to get our own and was always around whenever I needed anything. Her service was above and beyond so please say a huge thank you to her for everything she did. All the staff were friendly and couldn't do enough to help. They took down all our garden decorations once we had moved inside which was a lovely touch as well.
I have to say what made the Cathedral Lodge very special compared to other venues I have been to was the level of service and all the little things that you did without extra cost or fuss. I would definitely recommend anyone to have their wedding here as it surpassed all my expectations. It was a day I will cherish forever- THANK YOU!
Lisa and Richard
*  *  *  *  * 
Thank you is too small a word. We would just like to say the Biggest thank you to you first and then the team who made our wedding day the most wonderful day ever. We and our guests had an amazing time and loved the wedding breakfast.
The Refectory room also looked so very perfect! We really could not have dreamt of a better day. It could not have been better!
Katy and Craig
*  *  *  *  * 
I just wanted to thank you so much and all the Lodge team too for the most amazing wedding day. Everything was absolutely perfect and we enjoyed every second. The food was absolutely exquisite!  All our guests had the most amazing time and everyone commented on the beautiful venue and wonderful service. It feels really strange not to be planning a wedding – we would love to go back and redo the whole day again. I cannot praise every part of the process and day enough!  It was all exactly how we imagined and better. Thank you so much again!  Love from, the new Mr and Mrs Strevens,
Sophie and Elliott
*  *  *  *  * 
My husband and I would like to say a HUGE thank you to you, Peter, Yuri and their teams; with a special shout to Mel behind the bar and the guy who managed the Midnight feast. Please also thank the girls at reception and the cleaning team. In fact everyone at The Lodge has done us proud and we really can't thank you all enough!!
All our guests loved the venue and the main comments are: "What a stunning venue", "OMG it's so clean", "Wow everyone is so welcoming and cheerful". Please do share this with the team.
Thanks again from the bottom of our hearts. We feel truly blessed to have had our wedding in Canterbury and at The Lodge – we always wanted to get married and celebrate somewhere that felt special and that we could return to in years to come. You've helped us fulfil that dream – we love Canterbury, we love the Lodge and will be back.
Claire and Pete
*  *  *  *  * 
We can't thank all the staff at CCL enough who made our wedding reception what it was. Celebrating getting married in the shadow of the Cathedral was truly a unique and special way to become husband and wife. The service and venue were excellent, the garden drinks reception was especially amazing and the staff made our day run smoothly; they were all a real credit to CCL in making our wedding day perfect. We definitely made the right choice and only wish we could do it all again.
Gari & Faye
*  *  *  *  * 
Any bride and groom has the potential to feel overwhelmed at the prospect of the task of booking their wedding, whether you're aiming for the society pages or small and intimate. After feeling somewhat terrified following visits to countless venues and being bombarded with prices that would require remortgaging of our home we found Cathedral lodge – a real Jewel in the Canterbury Crown.
The venue speaks for itself and is stunning, combining the elegance of the Cathedral with the modern facilities of the hotel itself – no designer portaloos required here. We were somewhat concerned that this venue was going to be too good to be true but the initial meeting with Catherine and her team put pay to these worries.  The team supported us with planning, finding suppliers and thought of every detail to make our day so special.  No request was too much and they managed the bridezilla moments without batting an eyelid.
Due to their superb planning skills and consummate professionalism there was nothing to do on the day except enjoy it, which we did enormously.
We would like to say a huge thank you. As cliché as it sounds it really was the best day of our lives and we couldn't recommend this venue more highly.
Mrs and Mrs Copley
*  *  *  *  * 
"Have just got back yesterday from honeymoon, had an incredible time. I just wanted to email to say thank you to Tania and all of the staff for the amazing time we had. Or wedding day was the most amazing day of our lives made even more perfect by your amazing team!! They all worked so hard and nothing was too much trouble. The food was amazing!! And I'm told the buffet was yummy too, although I'd had too much to drink to remember it! i am 100% going to recommend you to anybody looking for a wedding venue or even just a party venue. Thank you again so so much!!
Holly and Dean
*  *  *  *  * 
We were delighted with the reception at the Cathedral Lodge. We had a very small wedding but the Lodge was brilliant at meeting our particular needs.
The service was highly professional from start to finish and the hospitality on the day exquisite. The wedding breakfast was faultless, the room perfectly presented and the Campanile garden, with the Cathedral at the background, was unbeatable as a setting!
We have already recommended the Cathedral Lodge to our friends looking for venues for their own wedding party and would do it again.
Tim and Liis
*  *  *  *  * 
We had our wedding reception at the Cathedral Lodge during the August bank holiday weekend, and it couldn't have been a better venue. Catherine, who was our wedding planner, was amazing at making sure everything was covered and keeping us on track, as we were particularly disorganised ourselves so there probably wouldn't have been a wedding without her! She definitely took a lot of the stress out of the planning.
On the day itself, the rest of the team at the Lodge were brilliant, making sure that everything went smoothly, and last minute changes were dealt with without any fuss. The food served was delicious, and we had many compliments from guests about the food provided – both for the main meal and the evening buffet. Everything was presented beautifully and the staff worked really hard to make sure all our guests were happy.
The venue was really beautiful – having drinks in the Campanile garden with the Cathedral backdrop was amazing. We stayed the night at the lodge in a lovely comfortable room with a stunning view of the Cathedral, which was the perfect end to our wedding day. We would definitely recommend the Cathedral Lodge to anyone who wants a memorable wedding day and a stress-free (as much as possible!) lead up to it!
Sinead and David Palmer
*  *  *  *  * 
The venue was prefect, the backdrop for the wedding photos a real coup!  But there was far more to making the day a success than the venue. I cannot speak too highly of the planning, support and advice provided by a very patient team at the Cathedral Lodge prior to the 'big day' – absolutely nothing seemed too much trouble.  On the day, the team discretely went about their business to ensure that everything ran smoothly and happily.  To hold the reception at the Cathedral Lodge was one of the best joint decisions we have made; and hopefully throughout our married life, other joint decisions will be as successful . . . . !
Malcolm and Debbie
*  *  *  *  * 
 "My husband and I, (sorry, couldn't resist!), would like to thank you very much for the care and attention to detail both Tania and all of the staff at Cathedral Lodge put into making our day so special. We had the perfect wedding and felt that everyone worked extremely hard to make sure that our experience was unforgettable.
From the wonderful girls on reception who made arrival so stress free to the night manager who made sure that we had everything we needed, we felt really pampered.  David and Joe surpassed themselves with the food. How they can produce such wonderful food on such a large scale and have it all served hot is beyond me, it was totally perfect. Juri obviously runs a smooth operation as it all went like clockwork and Peter made the whole experience really personal, he really put himself out to go the extra mile and ensure that we had everything we needed.
Then there was Tania, keeping me together when things got stressful and sending us the champagne and a personal card just all so so wonderful. We will definitely be recommending Cathedral Lodge to everyone we speak to, as will our guests".
Thanks again and best wishes.
Julie and Nick
*  *  *  *  * 
Thank you very much – it was just the most perfect day, and we had an amazing honeymoon!
I have nothing but positive feedback. You, Poppy and Pete were fantastic all day – everything went very smoothly and everyone was so helpful and friendly, and nothing was too much. All the staff were extremely flexible, especially when we asked if we could take all the tea and coffee outside to enjoy the last of the summer evening, instead of being inside in the Kent Barn.
The food was all delicious; certainly our compliments go to the chef! All of the staff around the lodge, from the reception to the waiters and waitresses were always helpful and friendly and are a big credit.
Finally, a massive thank you to you! Thank you for all of your help, advice and support in organising everything. I don't think there's anything that I could have changed to make the day better.
Mr and Mrs Chamberlain
*  *  *  *  * 
"Wow! From the initial visit to see the venue, through the endless emails I sent asking many questions, to the wedding day itself and beyond, Catherine has been truly brilliant and she went above and beyond to make sure that our wedding day was the day of dreams.
Canterbury Cathedral Lodge enabled us to design our wedding day from scratch. We wanted our wedding day to reflect us and Catherine was so supportive in enabling this dream to come true! My parents even secretly met with Catherine in the week before the wedding to arrange some special surprises for us on our wedding day! Catherine ensured their surprises were carried out perfectly!
The day before the wedding, we met Peter and Poppy from the Banqueting team and they meticulously went through the plans for our Wedding day. On the day, they along with both Catherine Lucas and Catherine Baldwin from the Banqueting team, made our Wedding day run beyond our expectations. Poppy was so attentive to our needs, she checked if I needed a drink or if I had eaten any of the canapés or evening buffet to ensure I didn't go without in the excitement of everything! Poppy was on hand all day and was an absolute delight to have working with us and she was so lovely to everyone. Peter also particularly made us feel special and took time to talk to us and make us feel very at ease and welcome at Canterbury Cathedral Lodge.
We also have to mention the staff on Reception, especially India and Rachel. You both helped us so much from booking of rooms to the kindness and support throughout our wedding weekend. Thank you so, so much!"
Claire & Pieter
*  *  *  *  * 
"We came across the Lodge by accident and what a wonderful accident to happen! From the very first time of having a look around the venue we simply fell in love with it. Every member of staff we ever had any dealings with were nothing more than helpful, polite and informative. Nothing was ever too much trouble. We had good contact from them throughout the year towards the wedding by telephone, email and meetings. We always felt in the loop and like we could ask anything at any time.
Then came the big day… Catherine was truly fantastic and I would have been lost without her. Even doing up my dress for me as my bridal party were preoccupied elsewhere!! Peter and his team laid a fantastic service and all we have heard since is compliments on what a truly magical venue it is.
Excellent food, excellent staff, excellent accommodation. I couldn't have asked for a more wonderful venue. A real must see that I would very, very highly recommend."
Gemma & James
*  *  *  *  * 
Just wanted to say a HUGE THANKYOU for making Andrew and Jozette's wedding reception such a memorable occasion for us all.
Our son was living in Singapore with his wife and were planning to come back to Canterbury for a Church Blessing following their wedding in Singapore. We needed a venue for the reception and we chose The Cathedral Lodge in Canterbury.
From my first phone call to the delightful Catherine, to the actual day itself, we had a very smooth, stress-free experience. Catherine helped us to plan and book a wedding reception at relatively short notice and in the absence of the bride and groom. Despite the awful weather conditions on a wet February afternoon, our guests were greeted on arrival by friendly staff and made to feel welcome straight away. Andrew and Jozette were delighted with the choice of venue.
We were able to set up and decorate the Clagett Auditorium the evening before in our own time. We were not rushed at all and were even given complimentary tea whist we were busy decorating. Catherine and all the staff were very accommodating ,considering the exceptional circumstances we were organising this under.The bride and groom were thousands of miles away in Singapore! Our Singaporean daughter-in-law had wanted to get married in The Cathedral so this was the next best thing!
We could not fault it at all and Yuri worked tirelessly on the day to ensure everything went to plan and more importantly that everyone was enjoying themselves. One of Andrew and Jozettes highlights of the day was watching the video messages from their family and friends in Singapore, which we were able to project onto a huge screen for all the guests to see.
We would not hesitate to recommend The Cathedral Lodge venue to anyone planning a wedding or celebration, and we would certainly use it again for future celebrations
Claire and Adrian Pearce (Parents of the groom)
Check wedding availability