A day to explore the gardens at Canterbury Cathedral – Monday 13th May & Monday 10th June 2024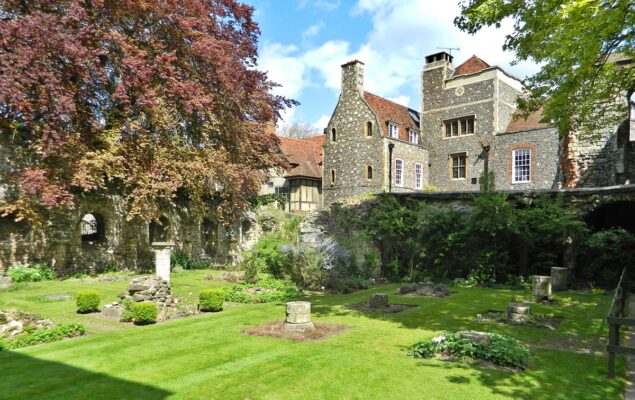 If you have a keen interest for gardening, or simply would like to gain more knowledge on the Cathedral's gardens history; then this is the perfect day for you…
Meet the team at Canterbury Cathedral for a fascinating day exploring the gardens and the history of gardening at the Cathedral. The day will begin with tea and coffee, followed by a talk with the members of the Cathedral's gardening team, and a chance to see some items from the wonderful collections of the Archives and Library relating to gardens and wildlife. Following this, you will receive a hot two-course lunch in the Refectory Restaurant at the Lodge. You will be led on a tour around the Cathedral Precincts to see some of the gardens themselves. We will finish the day enjoying tea, coffee and cake, and the option to attend Evensong in the Cathedral.
Itinerary: 
10:15 – Arrival at the Common Room, with welcome tea, coffee and Danish pastries from 10:30am
11:00-13:00 – Illustrated talk by the Cathedral's Head Gardener, on the history of gardening at the Cathedral and a visit to the Cathedral Archives and Library to enjoy items relating to plants and gardening
13:00:14:00 – 2-course hot lunch, with tea and coffee in the Refectory Restaurant
14:00-16:00 – Cathedral Precincts tour to see some of the Cathedral's gardens
16:15 – Enjoy tea, coffee and cake at the Lodge
17:30: Evensong (optional)
Price £65 per person (10% discount for Friends of Canterbury Cathedral).
Not local? Why not stay with us and receive 10% off! (All rates include breakfast and free entry to the Cathedral throughout your stay)
To book, please email us at events@canterburycathedrallodge.org or call 01227 865350 and ask to speak to our events team. Full pre-payment will be taken at the time of booking and is non-refundable unless we are able to re-sell the places booked.
More Special Events